Ocean views, spacious
rooms & nature…
ALL JUST 1/2 MILE FROM THE BEACH AND DOWNTOWN PACIFIC GROVE
The Olympia Lodge is nestled in gorgeous Pine and Monterey Cyprus trees just a half mile from the Pacific Ocean. There's nowhere better to escape the inland heat, or put up your family during holidays and special events. We even have faithful guests that come here for their staycations! No matter the reason, the Olympia Lodge will relax and delight.
THE OLYMPIA LODGE IN PACIFIC GROVE:
OUTSTANDING HOTEL LODGING IN MONTEREY
Enjoy the historic city of Pacific Grove while staying with us at The Olympia Lodge. Our old-fashioned charm, spacious guest rooms, and friendly service ensure you feel right at home while staying with us. Come enjoy one of Pacific Grove's most sought-after lodging experiences! Learn more about exciting local activities and events here.
The Olympia Lodge has thirty-eight beautifully appointed rooms, each furnished with fine Serta Pillow Top Beds, hypoallergenic comforters, and dark/rich wood furniture. Each room is equipped with a refrigerator, coffee maker, hairdryer, iron, and ironing board. Now, each guest may also enjoy our Grab-and-Go breakfast. Come and stay awhile. Disabled individuals requiring accessible features should contact our Hotel Manager at
831-373-2777
or
reservations@theolympialodge.com
.
IN RESPONSE TO THE COVID-19 PANDEMIC
This property is adhering to social distancing protocols. 
EVERYONE MUST:
Avoid entering the property if they have a cough or fever
Maintain a minumum six-foot distance from one another
Wear a face covering or mask (non-medical masks, bandanas, scarves and cloth can be used)
Cough or sneeze into a cloth or tissue, or if not available, into one's elbow
Not shake hands or engage in any unnecessary physical contact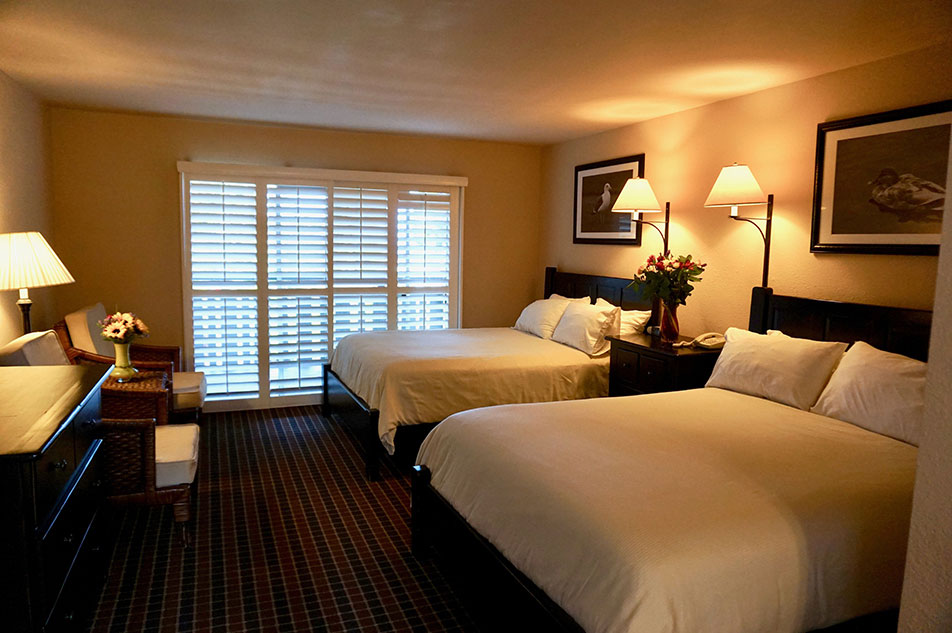 EVERYTHING YOU NEED TO FEEL RIGHT AT HOME
PARKING
We offer convienent parking in the front and the back for easy access to your room.
OCEAN VIEWS
Enjoy beautiful ocean views from many of the balconies nestled among the pine trees.
SCENIC WALKS
Enjoy a walk to the beach in 5 minutes or explore downtown Pacific Grove just a half-mile away from The Lodge.
YOUR HOME AWAY FROM HOME
Located in Pacific Grove, on the very tip of the scenic Monterey Peninsula, The Olympia Lodge is situated amongst some of the most beautiful views and recreational activities that the Peninsula has to offer. Whether you are an outdoor lover or visiting us on a relaxing weekend getaway, there are plenty of activities for everyone.
Enjoy a short walk to the beach, the spectacular scenery of California's Monterey Bay, award winning restaurants and activities of all sorts. Come to The Olympia Lodge and live your dreams.
Join Our Deals & Events Mailing List
Be the first to hear about deals at The Olympia Lodge and special festivals and events.
(We'll average no more than 1 email per month, and will keep your contact info safe.)
1-888-PG LODGE (888-745-6343)
Call: 831-373-2777    Fax: 831-375-8741
Reservations@TheOlympiaLodge.com
The Olympia Lodge
1140 Lighthouse Avenue,
Pacific Grove, CA 93950
Limited Lobby Hours